CIG Insider – Summer Edition 2017
State House Happenings
Battle of Trenton 2.0
The $34.7 billion budget for FY 2018 was signed in the early hours of July 4th, following a contentious debate between the Governor,  Senate President and Assembly Speaker.  At issue was the restructuring of  the not-for-profit Horizon Blue Cross Blue Shield of New Jersey
. Policy differences between the aforementioned parties led to a three-day State shutdown.
The showdown was a test of wills between the Governor, who promised to line item veto all of the Democratic funding priorities if no Horizon bill was passed; the Assembly Speaker, who initially refused to consider the Horizon bill before the Assembly had a chance to fully vet it as well as pass the FY18 budget; and the Senate President, who refused to move the budget unless the Horizon bill passed at the same time, heeding the Governor's line item veto warning.
In the end, following negotiations between Horizon CEO Bob Marino, Senate President Sweeney, and Assembly Speaker Prieto, the three were able to reach an agreement on the Horizon restructuring bill. After 12 am on July 4th, legislators were called back to the State House to vote on the FY18 budget and the newly compromised Horizon bill. Governor Christie signed both bills into law and the State shutdown ended just in time for New Jerseyans to enjoy state parks and beaches for the holiday.
The newly compromised Horizon bill adds two board members to the insurer, one to be appointed by the Assembly Speaker, and one to be appointed by the Senate President. There will also be a cap on Horizon's reserves so that any surplus reserves will be diverted back to the premium costs of Horizon's 3.8 million policyholders.
After the Governor implored the legislature to revamp the school funding formula in his February budget address, legislators held months of hearings, soliciting input from educators, administrators, parents, and community groups. The result was an additional allocation of $181 million in the FY18 budget for underfunded districts, preschool expansion, and Extraordinary Special Education Aid. While critics charge that the reallocation of aid dollars will be harmful to certain districts, Senate leaders have called this a "landmark first step" toward funding fairness that has been elusive under the embattled School Funding Reform Act of 2008.
In Other News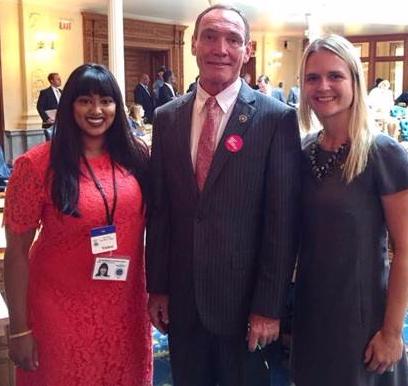 Recently, Assemblyman Eustace (D-38) spearheaded an effort with Best Friends Animal Society to pass a "No-Kill" resolution. The measure, which proclaims the intent to make NJ a no-kill state by 2025, had unanimous support and passed the Assembly!
This is the first no-kill resolution to be passed state-wide, following the passage of hundreds of such resolutions at the county and city levels throughout the nation.
Movers and Shakers
Amid the flurry of activity during the early-morning July 4 voting session to approve the budget, the Assembly took a few moments to recognize 
Assemblyman Dave Rible
, as he prepares to leave the legislature to become Director of the Division of Alcoholic Beverage Control. Rible will replace current Acting Director Jon Orsen of Manalapan, who has been nominated for a seat on the State Tax Court. A top unnamed source has confirmed that 
Nick DiRocco
 – former deputy chief of staff to Governor Christie, current mayor of Wall Township and government relations director at Horizon – is the odds-on favorite to replace Rible in the Assembly.
Stephanie Lagos joined gubernatorial candidate Phil Murphy's campaign as a policy advisor. The highly-respected aide was former Deputy Chief of Staff to Assemblyman Gary Schaer (D-36).
Chris Hughes and Cort Adelmanrecently joined Virtua Health as Assistant Vice Presidents of Government Relations. Chris comes from the Assembly Republican Office where he served as Budget Director; previous to that he was Director of Operations and then Chief of Staff for the NJ Department of Banking and Insurance. Cort previously served as Director of Government Affairs for Wellcare Health Plans and staffer to Majority Leader Lou Greenwald (D-6).
Replacing Hughes in the Assembly Republican Office, Debbie DePiano has been promoted to Budget Director.  The veteran staffer had previously worked on six budgets as deputy budget director.

Michele Brown's
 nomination to the Board of Trustees of Horizon Blue Cross Blue Shield, NJ was approved by the Senate last week. Brown,a longtime confidant to the Governor, oversaw the then U.S. Attorney's appointments and led the state Economic Development Authority.
Interesting things happening for GOP candidates in Bergen County's 38th legislative district! Republican candidate Matt Seymour announced he is quitting the race and switching his party affiliation to Democrat. This is the second time in the last two election cycles that a GOP Assembly candidate has unexpectedly dropped a challenge to unseat popular Assembly members Joe Lagana and Tim Eustace (D-38).    
Francine Glaser, former Director of Operations for Assemblyman Eric Houghtaling and Assemblywoman Joann Downey (D-11) and newly-elected Democratic Committee member in Edison, recently joined Assemblywoman Nancy Pinkin's (D-18) office as Legislative Director.
Paulina Banasiak, former Legislative Director for Assemblywoman Valerie Huttle (D-37), has joined Assemblyman Raj Mukherji's (D-33) office as Chief of Staff. She replaces Justin Shoham who has started his own political fundraising company. Also, Corey Wolkenberg was promoted to Legislative Director for Assemblyman Mukherji.
Shane Mitchell was recently named Legislative Director for Senate Majority Leader Loretta Weinberg (D-37). Mitchell was an aide to Weinberg for the last year or so and started his political career at Parano & Associates after graduating from Princeton University. Tony Bonaides has formally joined Weinberg's staff as a legislative aide after serving as an intern and just recently graduating from Columbia University.
Longtime veterans of the Christie administration have been nominated to the bench. Greg Acquaviva, the Governor's current chief counsel, will soon move on to the state Superior Court. Susana Guerrero, who most recently served as the Executive Director of the State Ethics Commission, has been confirmed as an Administrative Law Judge.
Kudos to Senate Majority Policy Chief Mark Magyar who was recently named #1 on InsiderNJ's top 100 policymaker list.

Assemblywoman Valerie Vainieri Huttle (D-37) recently named Alexandra Acosta as her new chief of staff. Since 2015, Acosta was in charge of community relations for Bergen County Executive Director Jame Tedesco.
Senator Bob Menendez has hired Swarna Vallurupallito serve as his new health policy advisor. Vallurupalli spent the last four years as Representative Mazie Hirono's (D-HI) health and tax counsel. She also spent time as a staffer on the Senate Finance Committee where Menendez serves on the Health Subcommittee.
Luke Margolis, the Associate Executive Director for the Senate Majority Office and director of media relations, will be leaving to join Atlantic Health as part of their communications shop.
Former OLS counsel Mike Molimock has joined the Senate Republican Office as an aide to the Senate Judiciary and Law & Public Safety Committees.
Michael Muller, the top strategist for the Democratic Assembly Campaign Committee (DACC) for the last 15 years, recently resigned his position.  He and his entire team will still be running the Senate Democratic Majority fall campaigns.  Earlier this month veteran political strategist Mark Matzen replaced Muller as the new executive director of DACC.
In Memoriam

Trenton was shaken last week by news of the untimely death of GOP strategist Rick Rosenberg. A veteran of state and national Republican campaigns, Rick most recently managed Assemblyman Jack Ciattarelli's (R-16) bid for governor, a tightly-run campaign which exceeded the expectations of many. Supremely talented and well-respected on both sides of the aisle, Rick will be greatly missed.
CIG Client Spotlight 
This past January,  
Coriell Institute for Medical Research
 recently named 
Courtney Mengel Dirks
 as their new Director of Communications and Government Relations. Courtney visited the busy State House halls this June, and met with legislators including 
Senate President Steve Sweeney
 and 
Senator Nilsa Cruz-Perez
.
Proximity to Power…
CIG Live on State Street!
As reported in NJBIZ, Capital Impact Group recently launched 
CIG Live on State Street
, a real-time video stream of press conferences, political events, rallies and more. Now you'll be able to view political developments in Trenton anytime from anywhere, as they happen!

Check it out here:

Out & About
Gerry Gibbs and Gene Mulroy with
Pete Oneglia, General Manager of InsiderNJ.com, at the site's State House Mixer.  Launched earlier this year, the site has quickly become a must-read for Trenton politicos.
CIG hosted a successful event for
Ambassador Phil Murphy in their Trenton office.
Standing-room only – CIG was proud to host the Women's Political Caucus PAC awards reception honoring Senator Diane Allen, Marilyn Davis and Eileen Kean.
Gerry and Quincy Gibbs enjoying Take Your Child to Work Day.
Paul Crupi and Lieutenant Governor Kim Guadagno at a Monmouth County reception.
CIG celebrates with Congressman Payne at his Annual Congressional Ball.
Briana Piserchia celebrating her 10-year anniversary with Capital Impact Group, she rocks!
Sabeen Masih speaking to young women during the Center for American Women and Politics' NEW Leadership NJ panel.
CIG's Shantè Palmer & Gerry Gibbs join George Hampton and ACDevCo Board Member Bob Holmes for the groundbreaking of the Gateway Project.
Paul Crupi and team BAYADA Home Health Care met with Assembly Speaker Vincent Prieto to discuss issues affecting home care in his district office.
Ambassador Phil Murphy, African American Wall Street executives and CIG's Gerry Gibbs discuss policy affecting AA participation in the public finance, broker dealer, asset management space as well as the utilization of diverse outside counsel.
CIG's Sabeen with Senate Majority Leader Loretta Weinberg and Assemblywoman Joann Downey at Pam's List event earlier this month.
CIG's Paul Crupi, Sabeen Masih and other alums joined Eagleton Institute of Politics faculty members John Weingart and Sarah Kozak for a State House luncheon.
Gene Mulroy accepting his award at 128 West State Cafe for being the #1 customer (self-proclaimed).
Congratulations to longtime ODM client, 
Plainfield Mayor Adrian O. Mapp
, on his June primary victory, securing the Democratic nomination for another four-year term as mayor.
Read Plainfield's Spring newsletter.
ODM was tasked with putting together a special edition of the PSEG Insider
that paid special tribute to former PSEG CEO Al Koeppe.
 Who We Are
Capital Impact Group
 is a bipartisan, full-service public affairs and business development firm based in Trenton, NJ, 37 steps from the front door of the State House. We offer a wide range of services to help our clients manage the realities of today's political, economic and regulatory environment and the ever-changing dynamics in the State of New Jersey and Washington, D.C.
Open Door Media
 is a fast-growing public affairs and communications firm focused on delivering results for our corporate, government and non-profit clients.